The IFP is one of the Continuing Education Programs run by SOBRAMFA – Educación Médica & Humanismo.
The objective of the IFP Program is to offer the opportunity to learn about the experience of SOBRAMFA in the promotion of Humanistic Medicine: in its clinical dimension (Medical Humanism in healthcare practice) and in its teaching dimension (Medical Humanism in schools of medicine collaborating with medical education).
Personalization of the IFP: SOBRAMFA will link a personalized program according to the profile of each candidate.
What is the International Fellowship Program
The IFP International Fellowship Program is one of SOBRAMFA – Medical Education and Humanism (www.sobramfa.com.br) – educational programs.
The IFP aims to provide opportunities to share the Brazilian experience in constructing an Humanistic Perspective of Doctoring within a Patient Centered Approach
The International SOBRAMFA Fellowship is now recommended by AAMC-VSLO, through a Partnership between AAMC-VSLO and SOBRAMFA.
Contact us for this unforgettable experience of how to incorporate Humanism in the daily medical practice.
Where is the Fellowship held?
In São Paulo, Brazil. The activities are carried at the SOBRAMFA's headquarter and private hospitals nearby.
Objective
The International Fellowship Program aims to provide development in:
Educational Issues in Family Medicine as Academic Discipline.
Research according with daily activities of the family physician: transforming practice into research and publishing it.
Information Mastering, scientific update, taking decisions in practice.
Promoting Leadership for supporting Family Medicine development in the own country.
Audience – Candidates
Family Medicine Residents, Medical Students, Physicians and Health Professionals involved in Primary Care abroad.
Activities
Home Visits – Seeing patients at their homes, along with a family doctor and nurse.
"Scientific Pacemaker" – Weekly Scientific Meeting at Sobramfa headquarters, including clinical discussion, family medicine topics discussions, lectures, journal club with recent papers, and clinical doubts arising from daily practice.
Family Medicine Clinics and Ambulatory: where family doctors take care of chronic patients and patients with comorbidities.
Family Medicine Didactic Clinic (Free Clinics): were medical students see patients, supervised by family medicine residents and family doctors. This is a teaching-learning scenario in were residents learn how to teach.
Palliative Care Ambulatory
Geriatric Care: for institutionalized age people
Mastering Information: learning how to search for medical information and how to take it into practice
Developing Research: Fostering research and scientific papers focused on primary care, medical education and family medicine topics.
Investment
The values are expressed in US Dollars (US$). You can pay by credit card using PayPal®.
Duration
Investment
Physicians, Residents, Health Professionals
Medical Students
1 month
US$ 2,460.00
US$ 1,560.00
2 months
US$ 4,048.00
US$ 2,495.00
What is included
Certificate of participation
Life insurance
How it works
Here is a brief overview of how SOBRAMFA's International Fellowship Program works:
After you submit the application form (clicking the "Application form" tab above), our staff and the IFP coordinators will evaluate if you are eligible for the fellowship program.
If you are eligible to attend the International Fellowship Program, our staff will contact you and provide you the better way to make the payment.
You'll be able to pay by credit card through PayPal®.
The IFP coordinators will elaborate a personalized agenda to you, in order to guarantee the best experience for you while you stay with us, and maximize the range of knowledge you'll be able acquire.
Note that hosting isn't included in your fellowship. See below a list of the hotels near to SOBRAMFA's headquarter.
Opinions
These are the opinions of who participated in the International Fellowship Program.
Sarah Elicia Krasny
Baylor University, USA
Celia Maria Colás Aparicio
Universidad de Alcalá, Madrid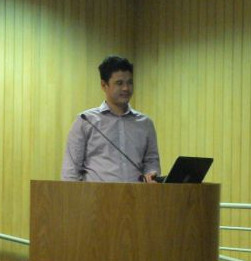 "My clinical experience in Family Medicine at SOBRAMFA was extremely rewarding and was of great value to my future career as a physician. I was able to see Family Medicine in Brazil in so many different contexts from ambulatory care, to in-hospital patients, long-term care facilities, Palliative Care and also home visits. The team was so passionate of the humanistic philosophy which Family Medicine is based on and that was extremely refreshing. All physicians were highly committed to excellence in the care of their patients while also being very attentive to the learning role of the medical students and provided valuable teaching with every patient encounter. It was an exciting rotation as well taking place in one of the most bustling metropolis of South America, São Paulo. I would highly recommend this program to fellow medical student looking for an invaluable experience in Family Medicine in Brazil.
"
Wilson Chan
–
McGuill University – Canada

"I've learned that doesn't matter the name given to the doctor by the patient – his speciality – the important is to take care of the patient and make the difference for it

 
"
"
The SOBRAMFA's members have some attention/concern with the residents and trainees that isn't common to find
"
"
The humanistic care given to the patient is evident
"
Dra. Shirley Cifuentes
–
dramedicasrc@yahoo.com.br
–
Equador

"
This fellowship made me to find again the Family Medicine
"
"
Was possible to rescue the humanistic focus of the speciality
"
"
During the fellowship I had a big apprenticeship in the respect of domiciliary visit and elderly care
"
Dra Tânia Duran
–
tanitad2c@hotmail.com
–
Bolívia

"I really recommend this program to a resident who interested in health system and principle/core value of Family Medicine.  This was a great opportunity for me to reflect my understanding of family medicine and primary health care. Observing non verbal communication is one other benefit of this program if you do not speak Portuguese. You will start to pay more attention to non verbal cues in the communication and you will amaze how much you can understand even without knowing the language. This is also a good rotation if you have interest in communication between a doctor to a patient, and a doctor to a staff"
Daisuke Yamashita
–
qyk02472@nifty.com
–
Resident from Oregon  Health & Science University – USA
"The doctors at SOBRAMFA were so organized that they had me experiencing different aspects of medicine everyday. I feel that I will now be able to better relate to Brazilian patients, through language, culture, and experience. I also learned a lot about public health, Brazilian healthcare options, family medicine, infectious disease, and the importance of forming good relationships with patients. Many individual patients left lasting impressions on me that I will carry with me as a physician in the future. This experience has surely shaped me in a positive way, and I believe that it will contribute to making me a better physician. My medical education has truly been enhanced by this experience and I am grateful for that."

Laura Israelian Petras

 
–
lisraelian@hotmail.com
–
USA
The strange thing for me as well was to know that the Family Medicine here take care after palliative care as well.
Home Visits – very important point of the course, a big new experience, different way of dealing with patients, showing the other face of the family medicine, definitely one of the best experiences during the whole course.
Karolina Jaczewska – Matyjaszczyk
– Poland
It was very important to me to see how things work in a different cultural surroundings.
I think you make a very important job by showing specialists and student that they should deal with the patient not look and just deal with disease.
Michal Matyjaszczyk

 
– Poland
The surprise was to find out how much more I have to learn and that I have learned probably more in one month than in one year of medicine studies
The program reassurance of my passion of managing patient's health.
Ricardo Cypreste
– Poland
I faced hard and impressive human situations, where I needed to react in a calm, serious and mature way.
I learned to treat patients humanely.
This experience allowed me not only to see but to live and being part of daily work in Family Medicine.
Augusta Milberg
– Peru
This was an excellent reminder of why I went into Family Medicine.
Mary Puttmann
– EUA
Application
Application form
Application fee
Fill in the form bellow and we'll contact you shortly regarding your application.
Select the appropriate option in the following form to pay your tuition fee securely via PayPal.
After your payment is processed our staff will contact you to talk about the next steps.